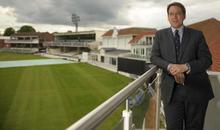 by Alex Hoad
Kent Cricket Club chief executive Jamie Clifford admits the club are preparing to reveal financial figures which could be the worst they have ever had.
The club's annual audit should be complete by Christmas, with the figures expected to be released in January and Mr Clifford revealed Kent are braced for bad news but has vowed they won't "stress too much."
Bad weather hit the summer programme hard with £50,000 lost in a single week when Tunbridge Wells week, including the club's opening T20 game, was rained off, while on the field, Kent narrowly missed out on a money-spinning T20 quarter-final.
In June, Mr Clifford (pictured) took the step of writing to members urging them to help increase attendances by bringing friends and neighbours to games but the legacy of the wettest summer on record is set to become apparent within weeks.
Mr Clifford said: "The audit is about to start and will run until about Christmas, so we won't have the final figures until the new year. We are not expecting any surprises though, because the die is already cast. We know what we're looking at.
"It wasn't a good year, we know that. We have to accept it has been a bad year. I shouldn't think we've had a worse year in fact but it's important now that we focus closely on next year.
"We need to focus on the future and not stress too much about the past. There's nothing we can do about it now."
Last winter, the 2011 operating profit announced of £188,000 was well-up on the loss of £595,000 reported the previous year. After tax and interest adjustments the club's overall profit for 2011 was £379,000.
Mr Clifford revealed that in 2013 "We will plan for the year that has just gone, which is what you have to do, but we will hope for rather better.
"The weather obviously has an impact but you get whatever you get. If the weather changes next year and the performance on the field holds up as it did in 2012, then things can change quickly. Like all sensible organisations do – plan for the worst and hope for the best."