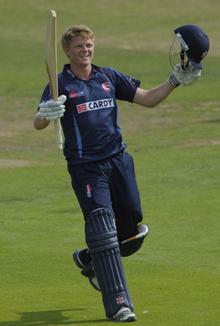 Exclusive by Alex Hoad
Sam Billings says he won't allow a fractured foot to derail his plan to earn a first-team place at Kent this season.
The 21-year-old wicketkeeper is spending the winter on an ECB scholarship at the Darren Lehman Academy in Adelaide but the rigours of the daily training regime saw him suffer a stress fracture in a joint in his right foot last month.
Billings said: "I went for a run a couple of weeks ago and felt it getting progressively worse and about 1.5miles in, I felt it go. I couldn't even walk back.
"I had three or four scans and it was originally thought to be a double stress fracture but it turned out to be a small fracture in a joint in my foot.
"It was basically over-training, day-in day-out. It's been a long haul over here, full-on.
"This break might have come at a good time because I'll be fresh and ready to go back at Kent on March 4."
Billings said Kent coach Jimmy Adams and captain James Tredwell had been keeping in contact via the internet and added: "They've both been good. Things tend to get taken care of when we get back for pre-season so I'm sure we'll find out where we stand then.
"I got an opportunity in one-day cricket last season and did relatively well. It's a good target for me this season to be a top scorer in both forms of one-day cricket and start well in the 2nd XI for four-day cricket and try and make some big scores."
Do you think Billings will feature for the Kent first-team this year? Have your say below.