Faversham's mystery monarch is causing havoc from beyond the grave... delaying building work at his potential burial spot.
Work on a new auditorium and sixth form centre was due to start at the Queen Elizabeth's grammar school in Abbey Place after the Christmas holidays.
But, after attention turned to the final resting place of King Stephen (pictured below), building work was stopped at the site for two months.
The body of the medieval king, along with his wife Queen Matilda and son Eustace, were buried in the grounds of the former Faversham Abbey church in 1154.
The Abbey was dissolved in 1538 by Henry VIII and most of it was demolished.
But that site is now home to the grammar school's playing fields.
And after the discovery of Richard III in a car park it could now be that fellow monarch King Stephen is buried in the Faversham school's playing fields.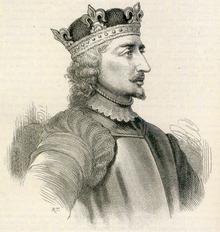 Head teacher David Anderson said: "The prospect of Faversham having its own slice of history is very exciting.
"The building of the new auditorium and sixth form centre is now under way, despite considerable delays due to archaeology.
"There has been some sensitivity around this, probably due to the recent discovery of Richard III in Leicester.
"The location of the remains of King Stephen are still unknown but may well be on the school grounds.
"This has certainly slowed the building works. Even as we speak, we have archaeologists in the trenches that will form the foundations of the new sixth form and humanities centre. Who knows what they will find!"
Legend has it King Stephen's bones were thrown into Faversham Creek when the building was dismantled.
However, the exact location of his skeleton remains shrouded in mystery and it has been suggested the former king could be buried beneath the school grounds.
Rumours also circulated that a tomb in nearby Faversham Parish Church of St Mary of Charity could be home to the bones.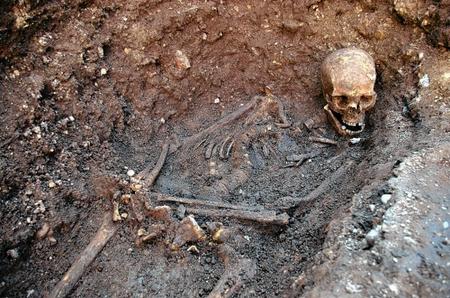 The building delays follow calls for Faversham to find its long lost king.
Manager of Faversham Enterprise Partnership Laurence Young said: "It's time to get to the truth about King Stephen and his burial place.
"The worldwide interest in Richard III has been colossal and, while Stephen doesn't have his profile as a leading historic figure, he is one of very few English kings whose fate is not known certainly.
"From a national perspective it is something that ought to be investigated and settled one way or the other."
The schools hopes to have the new building up and running by October this year.