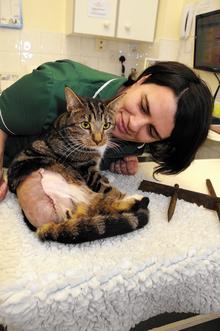 Lincoln the cat lost one of his nine lives – as well as one of his back legs – when he became impaled on railings outside a house in Canterbury.
The unlucky pet found himself in a spot of bother after falling on the sharp spike in Orchard Street at 10.15am on Saturday.
He was discovered impaled on the railings by the owners of the house, who tried in vain to free him before calling the RSPCA and fire brigade.
Firefighters used specialist equipment to cut the spike off the railings and Lincoln was taken to the Broadway vets in Herne Bay with it still in his back right leg.
He was operated on that afternoon and the spike was removed, but veterinary surgeons had to amputate his leg.
Practice manager Gill Smith said: "Unfortunately we had to take Lincoln's leg off but it is quite amazing how cats can manage after this type of operation.
"He will be able to cope and will compensate for the loss of his leg.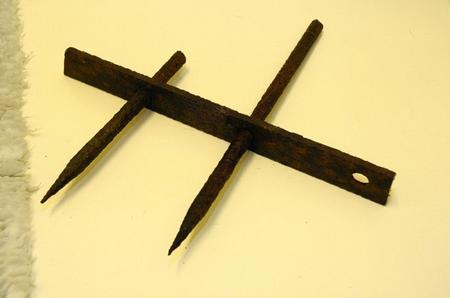 "Lincoln is a super cat and his owners were so pleased to have him back and picked him up on Monday.
"He is now recovering at home."
Canterbury fire station watch manager Steve Wright said: "It looked like the cat had slipped while jumping and fallen down onto the spike.
"The RSPCA told us what to do."