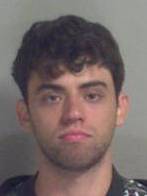 by Alex Claridge
A music graduate caught trying to deal a £1,900 stash of party drugs at Canterbury's Lounge on the Farm festival has been jailed for two years.
Liam Bush claimed he had only been looking after the MDMA - a powdered form of ecstasy - for someone when police saw him try to throw away a bag containing 38g of it.
Canterbury Crown Court heard the 21-year-old was charged with possession with intent to supply because he said he was going to give it to someone else later. He admitted the charge
Prosecutor Ian Foinette said Bush had been at the festival at Merton Farm off Canterbury's Nackington Road on July 8 when security guards heard him talking about MDMA.
They told police who arrived to see Bush throw a bag away. Mr Foinette said it was later discovered to have 38 grammes of the class A drug with a street value of £1,900.
"The defendant said he was at the festival when one of the people he was with wanted to go off for a while and asked him to look after it," Mr Foinette said.
"He said he was then going to return it to that person, but denied that he was involved in the supply of it in any other way."
The court heard that Bush, of Edge Hill Close in Folkestone, had only just graduated with a degree in music and had brought great shame on his family as a result of his actions.
Judge Adele Williams told him: "It is a great tragedy that you became involved in this at all and this is not an insignificant quantity of ecstasy at a music festival. It's quite impossible to suspend the sentence."