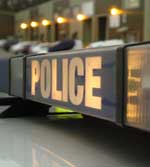 A man was robbed by a biker wielding a kitchen knife in a lay-by on the A2 near Canterbury.
The 43-year-old was driving coastbound when he pulled over just after the Harbledown junction to get something from the boot of his car.
While he was looking in the boot a motorcyclist pulled up 8ft behind him and asked the man for directions to Canterbury.
The biker then produced a kitchen knife and told the man to hand over his mobile phone and the sat nav from his car. He handed them over and the suspect fled on his bike.
The biker spoke with an eastern European accent, possibly Czech Republic. He was 6ft tall and was wearing a red motorcycle helmet, black leather jacket, dark blue jeans and black trainers.
His motorcycle was red and covered in mud.
DC Kirsty Bricknell said: "While this appears to be an isolated incident, I would advise motorists using empty lay-bys to beware of being approached by any strangers and to report anything suspicious.
'I would like to hear from anyone who witnessed the incident, or has information. Please call me on 101 quoting crime reference ZY/1023/13.
"Alternatively if you have any information but would prefer to remain anonymous call Kent Crimestoppers on 0800 555 111."
The robbery happened at 9.30am on January 10.