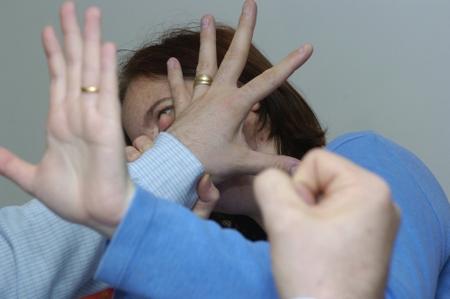 by Paul Hooper
A man stabbed by his partner after a row over a kiss has told her he will wait until she is freed from jail.
Carl Fox had a 12-inch knife plunged into his chest - puncturing his lung - after a violent bust-up with lover Jodie Collins.
It was the THIRD time the "fiery" 24-year-old had been convicted of attacking him in their "volatile" six-year relationship.
But despite the serious knife attack, which followed a street kicking and another knife attack, Mr Fox:
REFUSED to appear as a prosecution witness in her trial
TALKS to her by phone in prison each day
SENDS her cash
REJECTED a prosecution call for a restraining order and
PLANS to renew the love affair when she is released.
Collins, of Ridley Close, Herne Bay, has been jailed for 21 months after pleading guilty on the morning of her trial to unlawful wounding.
She had denied the more serious charge of wounding with intent and a not guilty verdict was recorded.
Her parents sat in the public gallery at Canterbury Crown Court to hear how Collins and her lover had been to a party in July this year.
"i have been asked about a restraining order, but i do not want one imposed on her as i want to resume the relationship when she has served her sentence..." – stab victim carl fox
John O'Higgins, prosecuting, told how the couple had been drinking before falling out after an argument.
Mr Fox claimed Collins admitted kissing another man at the get-together – but she later claimed she said someone had TRIED to share a kiss.
During the row, Collins said Mr Fox had punched her in the eye – and then came towards her in a "jealous rage".
She later explained how she saw a kitchen knife with a 10 to 12-inch blade lying nearby, which she picked up and thrust out in front of her.
Mr O'Higgins said police were called at 1.45am after paramedics were sent to treat a man with a knife still sticking in his chest.
He said the wound had punctured Mr Fox's lung and he was taken to hospital and treated for his injury.
Collins's lawyers said the guilty plea was on the basis she had used excessive force defending herself.
Mr O'Higgins said a police officer later spoke to Mr Fox who had "explicitly accepted" that basis of plea.
Mr Fox added: "I have been asked about a restraining order, but I do not want one imposed on her as I want to resume the relationship when she has served her sentence."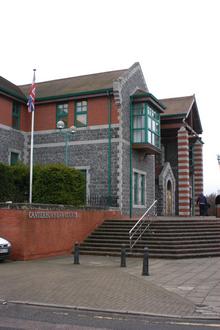 Mr O'Higgins said: "Both of them had been out that night and Mr Fox said he had drunk a quantity of alcohol. Collins returned later saying she had kissed a man at the party.
"They went into the bedroom and an argument started between them. She pushed him a few times before a knife was produced.
"He then said he realised he had a knife sticking out of him and was taken to hospital."
Judge Heather Norton, who was shown the weapon, heard how the couple had shared a "volatile and fiery" relationship in which there had been allegations by both partners.
Mr O'Higgins said police had been called to the family home on several occasions after allegations of assaults but Mr Fox would then withdraw his allegations.
But Collins had twice been convicted of assaults and on a third occasion had been given a police caution. She had also served prison sentence for an attack.
Dominic Webber, defending, said Collins had been provoked by Mr Fox - who had been in a "jealous rage" after the kiss allegations and she had armed herself "in fear" after receiving a black eye.
Judge Norton told her: "I have read your relationship has been described as volatile and fiery – which is clear from the previous history of you and Mr Fox in which there have been a number of allegations of violence by both of you.
"This incident followed a relationship characterised by violence."