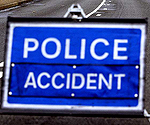 A 61-year-old man is still fighting for his life three weeks after being knocked down by a motorbike on a Faversham zebra crossing.
The local man was walking his dog in Whitstable Road at around 9.20pm on December 7 when he was struck by a Honda motorbike as he crossed the zebra crossing near the recreation ground.
He was taken to the Royal London Hospital with a life-threatening head injury, and is still in a critical condition.
Investigating officer, Detective Constable David Holmes, said: "The victim has serious injuries and we are appealing for any witnesses to come forward who have not already done so to help us with our enquiries."
Anyone with information should call the Serious Collision Investigation Unit on 01622 798538 or contact Kent Crimestoppers anonymously on 0800 555 111.