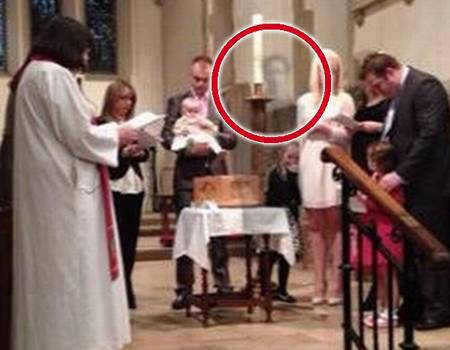 by Gerry Warren
When Jamie Sewell posted a photo of his niece's christening on Facebook he hadn't expected to see an extra "guest" gathered around the font.
But this eerie figure made an appearance in a picture he took on his mobile phone during the ceremony at St Martin's Church, Canterbury.
The black and white face looms over baby Mia-Bella Kennett and her family – but was only spotted when it was posted on the social media site.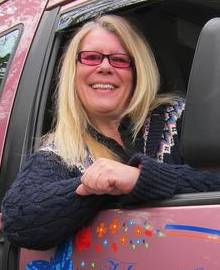 Local DJ Jamie, 29, uploaded the picture from the church, but the ghostly apparition doesn't appear in any other photos taken on the day.
The spooky face has shocked members of Mia-Bella's family, including her grandmother Heather Sewell.
Heather, pictured left, believes it bears a strong likeness to her late husband Terry Sewell, who committed suicide 17 years ago.
The taxi driver, from Petham, said: "I was so shocked when I saw it, as we all were. It looks very much like Terry.
"I know there has been no photo trickery so it is all very spooky and perhaps not what you want to see at a christening.
"I was in the pub afterwards when I first saw the Facebook page and everyone was stunned because it's so clear."
St Martin's, in North Holmes Road, is the oldest church still in use for religious services in the country.
But Chris Robinson, who has been a member of the parochial church council for 20 years, said he had never heard of any previous ghostly sightings.
Have you spotted a ghostly figure in any of your pictures? Please email multimediadesk@thekmgroup.co.uk or tweet us at @Kent_Online.