by Lauren Fruen
A youngster sledging naked down a Faversham hill has become a YouTube hit.
The online clip of the bare-cheeked thrillseeker, thought to be captured at Faversham recreation ground, has now been seen by almost 600 people.
It is part of a wider filming craze to hit the town, as businesses and local people take to the small screen to make their own films around Faversham.
In the past six months about 20 short films made by local people have been loaded to a new YouTube folder linked to the faversham.org website and they are already getting thousands of hits.
Faversham.org website manager Lucy Guthrie said: "There are films highlighting the local community and features of the area as well as quirky ones such as the brief, but bizarre, Naked Sledging, which seems to have been shot in Faversham recreation ground."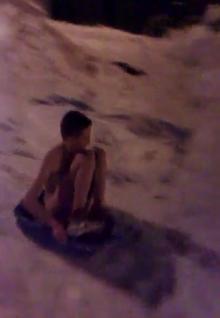 Lucy commissioned the first short film, Faversham: A Great Day Out, about the town in July 2012.
Since then businesses and residents have been making their own films.
Lucy added: "As well as the first film generating a lot of interest among local people and businesses, it has already had more than 4,000 hits on the YouTube folder on faversham.org.
"The Faversham in Kent folder was only created last summer, but now has around 20 films in it. All of them are also being viewed by visitors to the site.
"Local businesses are getting on board with the idea of making films to put Faversham and their products on the map.
"Films by firms such as Macknade, the Simply Group, Brenley Farmhouse. Moors Organic Juices, Barkers jewellers and Heselden Hats are now in the folder.
"And following the success of Faversham's two Christmas markets we now have a film of them being showcased on the site's home page."
Do you know the naked sledger? Calll 01227 475985 or email favershamnews@thekmgroup.co.uk.