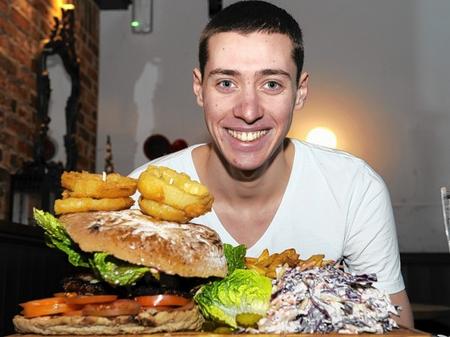 Arnold Schwarzenegger may be synonymous with most for acting, bodybuilding and running California for eight years - but for burger fans in Canterbury his name is behind the city's most gruelling food challenge.
The Terminator Challenge sees diners arrive at The Picture House in St Peter's Street looking to polish off two 12oz burgers, four rashers of bacon, four slices of cheese, a spicy sausage, six onion rings and chips.
For £20 challengers are also served pickle, baby gem, smoked paprika mayonnaise and coleslaw with winners eating for free if they manage to clean their plates.
In its first year the challenge has attracted more than 700 diners on Monday nights with customers pitching up from London and across Kent.
Just six were given their money back.
Owners Stuart O-Leary and Blake McCaskill said the gut-busting burger contest was born after staff began brainstorming new names for the menu which also includes burgers such as The Godfather and Jaws.
Mr O'Leary said: "We were thinking up names for new burgers and because we are an old cinema we often come up with films.
"We have burgers such as The Mexican and Get Him to the Greek and we decided we needed a Terminator one so we took it from there.
"The response has had a good impact on the whole business. People come in and take photos and share them on Facebook and Twitter.
"We had some guys come in with Arnold Schwarzeneggar t-shirts with Arnie carrying a burger instead of a gun. The t-shirts also said The Picture House and Terminator Challenge so it has worked wonders for us."
"Just recently we have taken a booking for a group of 16 and if we get bookings in advance we can also serve the burger on different days.
Not everyone however has had a good experience with the burger challenge - with Mr O'Leary revealing one diner was sick during his attempt.
He added: "We have had one guy who was sick, but most people know when to stop. Unfortunately I was on duty that day as well."
In May, a University of Kent student was filmed on YouTube trying to complete the challenge which has attracted more than 12,000 hits (see above).