The future of St Dunstan's lies in wider pavements, less traffic and an end to vehicles driving through the Westgate Towers, according to the latest vision for the area.
Transport chiefs want to force traffic coming into Canterbury from Whitstable to use Station Road West and North Lane and to allow only buses and taxis going towards the city to use St Dunstan's Street.
They also want to widen the pavement on the Bishop's Finger side of the road to create a larger pedestrian area which would then link up with the pedestrianised zones in the city centre.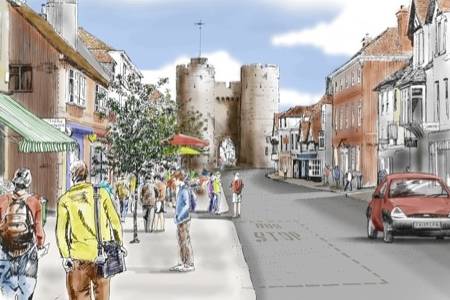 The archway at the Westgate Towers – so often the cause of gridlock in the street when coaches or lorries get stuck in it – will also be closed to traffic under the plan.
All vehicles would have to pass the towers where the street borders the Westgate Gardens and the Guildhall and traffic movement would be controlled by lights in St Peter's Place and next to the towers.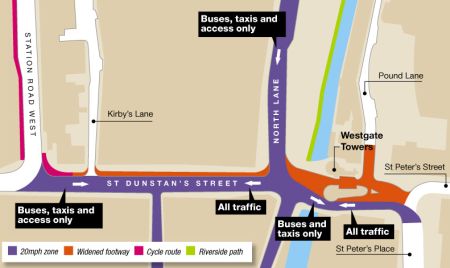 The latest idea for lower St Dunstan's Street came before the city council's Canterbury Area Member Panel at a meeting on Monday.
Members agreed to support a 12-month trial run of the scheme before full implementation.
But it is still far from becoming a reality as the plan has a long route to travel through various council committees.
Its next public airing is at the joint transport board, which is made up of city and county councillors, on December 6.
It will go before the overview committee two days later and then to the council's ruling executive on December 15. The executive has the power to decide whether or not to start the proposal's trial run.
Richard Moore, the city council's transportation manager, said: "The council has been looking at improving the setting of the Westgate Towers for more than 40 years.
"We have commissioned numerous studies, but for various reasons action has not been taken. In the last 10 years we had tried to get two projects off the ground and they failed.
"This new report sets out seven objectives we think we can achieve. We feel this is the right time to do it.
"It's a risk, but we can put it into place and then we can see what the impact of it is."
See full details of the plans and read more reaction on pages 6 and 7 of this week's Kentish Gazette, out now.
What do you think of the plans? Join the debate and leave a comment below or email kentishgazette@thekmgroup.co.uk