by Jamie Bullen
A drink-drive suspect accused of attacking a policeman was arrested after a martial arts expert stepped in to help the struggling officer.
Black belt Darren Stevens was driving through Broad Oak, near Canterbury, when he spotted the PC pepper-spraying a man he was attempting to arrest.
He pulled over and jumped out of his car to help restrain the man, who was said to have injured the officer in the struggle.
Mr Stevens, who runs Fusion Martial Arts and Fitness, in Broad Oak Road, was
"with true martial arts training you can have the confidence to take on any situation..." – darren stevens
praised for his actions and even received a letter from police applauding his bravery.
He shared the story on Fusion's Facebook page, winning resounding support from hundreds of people.
He wrote: "A copper in front of him [the suspect] had been hit by this guy and was unloading a full can of spray in this guy's face; didn't work and the copper was alone at this time, truly scared at the aggression of this monster.
"So me being me, 5ft 6ins, stopped and took this guy down to help the officer.
"Note to all my students, no matter how small you are or what sex you are, with true martial arts training you can have the confidence to take on any situation, but it takes dedication and persistence in your training."
Police inspector Kevin Dyer wrote to Mr Stevens on the day of the incident to thank him for his help and avoiding serious injury.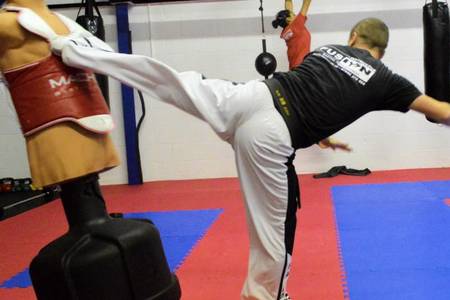 Insp Dyer wrote: "I am writing to thank you for the assistance you gave to my officers today.
"Not all members of the public would put themselves into such situations and having spoken to the officers they are very grateful for your assistance.
"As a result of your help the male was detained with only minor injury to one of the officers."
Martin Barnard, 33, of Ashburnham Road, Ramsgate, is due before Canterbury magistrates on January 21 charged with failing to provide a breath specimen and assaulting a police officer.