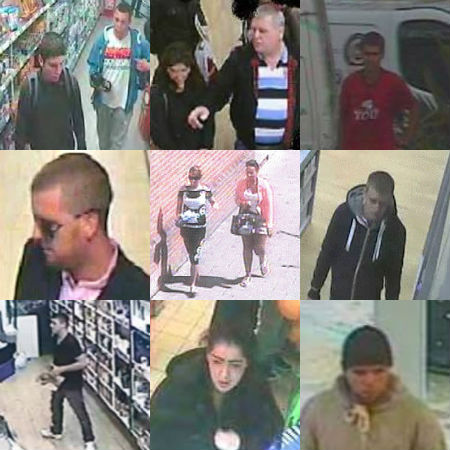 by Alex Claridge
Police have issued a rogues' gallery of people suspected of crimes in Canterbury, Whitstable and Herne Bay.
The CCTV images have been released to help officers solve cases of shoplifting and criminal damage.
The men in the top left image are suspected of stealing cider from the Co-op store in Sea Street, Herne Bay, on May 23.
The couple in the photo to their right are wanted in connection with the theft of two DVDs from Poundland in St George's Street, Canterbury on April 29.
Police want to talk to the red-shirted man in the top right about the theft of groceries from Asda in Sturry Road, Canterbury on August 28.
The man wearing sunglasses (middle left) is suspected to have stolen a bike from Halfords in Vauxhall Road, Canterbury on June 17.
The two women in the centre image are being sought in connection with the theft of perfume and medical items from Boots in Gravel Walk, Canterbury on July 15.
To their right is a man suspected of stealing two sets of headphones from the Apple store in Marlowe Arcade, Canterbury on July 10.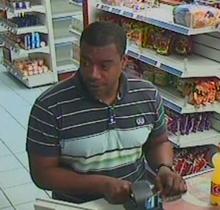 The man pictured left is wanted in connection with criminal damage to a wall, electrical items and shower fitting at Travel Inn, Thanet Way, Whitstable on August 29.
The bottom left image above has captured a man thought to have taken perfume from Superdrug in St George's Street, Canterbury on August 2.
The woman to his right is believed to have swiped soft drinks from the Co-op store in Canterbury Road, Whitstable on September 24
The final picture (bottom right) shows a man suspected of stealing a hi-fi from Curry's in Longmarket, Canterbury on June 4.
Publishing the pictures is part of a police effort to track down suspected criminals who have avoided capture.
Insp Tony Pledger said: "These images have been circulated within the police to see if these people are known to officers. We now hope that local communities will look at the images and help with our enquiries."
Anyone with information can call 01227 868256.