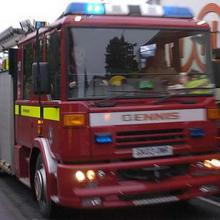 A pregnant woman had to be treated for shock on Friday afternoon after her garden shed burned down.
The woman called the emergency services when a tumble dryer in the shed overheated and caught light in Bournes Close, Sturry, at around 2.30pm
The shed was completely destroyed in the blaze and paramedics were called to treat the woman who had become distressed by the drama.
Now Kent Fire and Rescue Service is advising homeowners to install smoke detectors in outbuildings where tumble dryers and similar applicances are kept.