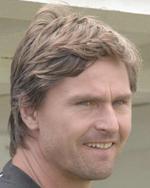 Faversham finished their Ryman League season on a downer, but manager Ray Turner is determined to fix the problems.
A 3-1 home defeat by Corinthian-Casuals on Saturday left them 17th in Division 1 South having gone seven games without a win.
Turner (pictured) has identified the weaknesses in his squad and is eager to make the changes needed.
He said: "There are fine lines between sitting pretty towards the top and having pressure at the bottom, and hopefully next season we can have a couple of good results early on and hit the ground running. We didn't have that this season and we were under pressure from the start.
"We will certainly be looking at scoring more goals and that's not just about the forwards; it's the whole team. It's about being brave, attacking and being creative.
"We've got lots to do and it's down to me to try and bring some new players in.
"I'll be looking to bring in two or three new faces and probably a bit more experience because we are a bit naive at times."