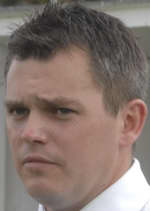 Justin Luchford admits he might turn his back on football management after being sacked by Whitstable Town during training on Tuesday night.
Luchford took over at The Belmont 12 months ago and steered the Oystermen to Ryman League, Division 1 South safety last season but, after a costly overhaul of the squad, which ignited hopes of a play-off push, Town are second-bottom and have lost five straight games after Saturday's 3-2 reverse at struggling Three Bridges.
Luchford was relieved of his duties by chairman Gary Johnson on Tuesday night and the former Faversham and Horsham boss revealed: "I was expecting a conversation but I wasn't expecting the sack.
"I told him there was no way I was resigning. I believe I can do the job but he told me he and the board had no faith in me."
Luchford added: "It's too early. The results aren't great but we're 12 games in with a brand new team, we've had some key injuries and we've barely lost a game by more than a goal.
"We're not getting hammered, we're not adrift at the bottom of the league, we're nine points off the play-offs. I have the support of the players and a couple of wins and we'd have been right up the table. Fair enough if we were adrift in the bottom three at the end of January but this is ridiculous."
Luchford admitted: "I've had enough and I honestly don't know if I will ever be back. I am gutted and I don't know if I have anything left to give."
Luchford revealed he was left 'fuming' by Mr Johnson's suggestion that he no longer had the backing of the Town players, explaining: "That's just not true. I lost respect for him when he said that.
"These players didn't come to play for the club or the chairman, they came to play for me.
"I've had so many texts from players and other managers who can't believe it.
"We lost in the 94th minute on Saturday and there were six players down on the floor at the end, devastated. Does that suggest they were not playing for me? It's a farcical decision, pathetic."
Luchford's No2 Richard Langley and player-coach Nicky Southall will take charge of team affairs as Town face three games in seven days starting with Saturday's visit of Chipstead.