Whitstable's very own Banksy has left his festive touch on some Grinch-style graffiti.
The words 'Santa isn't real' had been scrawled on a wall behind the Post Office in Gladstone Road by a mean-spirited vandal.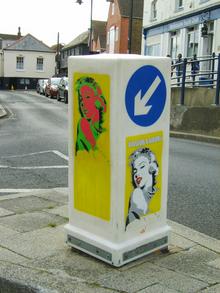 But an artist known only as Catman went out in the dead of night to play his part in keeping the Christmas magic alive for youngsters in the town.
At some point over the weekend, Santa made an appearance on the wall - paintbrush in hand - to dispel the myth he doesn't exist.
The style of the artwork has been likened to that of Banksy – the anonymous graffiti artist whose works have appeared across the world.
Even local councillor John Wratten appreciated the Christmas cartoon, saying: "The original has been there for a long time so I guess it needed updating and it has been done tastefully, with typical Whitstable good humour.
"Santa is a lucky man - he has become better looking with age. I like it but I hope it doesn`t start an outbreak of graffiti, tasteful or otherwise."
Other paintings believed to have been the work of Catman have appeared across the town, including pictures of Marilyn Monroe on traffic bollards.
Have you seen any more works by Catman? Call 01227 475985 or Email whitstablegazette@thekmgroup.co.uk.