Staff at Kent wild animal parks have seen a stampede of volunteers offering to protect their black rhino from poachers.
Port Lympne and Howletts Wild Animal Parks were put on high alert after revelations of a poaching plot in the UK.
It was thought to be the first time the illegal trade has targeted zoo animals in this country.
Now more than 80 volunteers have come forward after The Aspinall Foundation, which runs the parks, appealed for volunteers to help guard its animals.
Speaking after the influx of offers, Bob O'Connor, managing director of the parks, said staff would now set about interviewing, and building the successful applicants into the rota.
He said: "We are a charity. These are difficult times, and we don't really need additional cost burdens.
"They'll be working with our keeping staff driving around at night overseeing the park, just being another pair of ears and eyes."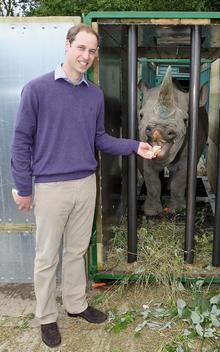 He said volunteers would not be expected to tackle anyone if anything happened - just to make the authorities aware.
Mr O'Connor added: It's not like being a nightwatchman in a warehouse. It's purely to add eyes and ears to make sure the staff aren't left on their own.
"We've always done night-time security patrols, but we are stepping that up considerably in view of their threat at the moment."
He confirmed an emergency procedure had been in place for the last week, after the parks were first alerted to the threat.
Bosses were given a specific warning from Kent Police that UK wildlife parks were being targeted by rhino poachers.
The two Kent sanctuaries are home to an important collection of black rhinos, which have been hunted to the brink of extinction in Africa.
Conservationist Damian Aspinall, whose foundation runs the parks, said: "It is tragic and beyond belief that, as we do everything possible to restore these magnificent animals safely to the wild, the human traders who seek to profit from their slaughter should bring their vile activities to the UK.
"In the light of what Kent Police have told us is a genuine threat, we will do everything to protect our herds. Our volunteers will be recruited responsibly after careful vetting.
"Their presence will enable us to be vigilant and alert at every point at which the rhino could possibly come under threat.
"We would also ask that visitors to Howletts and Port Lympne report any suspicious behaviour to staff."
But Bob O'Connor had a stern warning to anyone threatening the endangered herd.
He said: "You won't get away with it. We will protect our animals, so don't try it.
"you won't get away with it. we will protect our animals, so don't try it
" – parks md bob o'connor
"We will do everything in our power to keep our animals safe."
The Aspinall Foundation is the most successful breeder of black rhino in the world.
In the last seven years, 33 black rhino have been successfully born in captivity.
Now the two parks are home to 18 rhinos - 15 at Port Lympne and a further three at Howletts.
Prince William (pictured above) met some of the Rhino at Port Lympne before three of them were released back into the wild in Tanzania nine months ago.
Poachers in Africa hunt rhino relentlessly in pursuit of their horns, which they hack off the corpses, before illegally trading them for more than the value of their weight in gold.
Kent Police confirmed Crimestoppers received an anonymous tip on Thursday, suggesting poachers were hoping to target black rhinos in the UK.
Wildlife officer PC Michael Laidlow said: "We are not expecting to be awash with people carrying guns and shooting things.
"When we receive any information we have to act on it and we have warned the Aspinall Foundation to increase security.
"There will be a heightened police presence in the area as well."