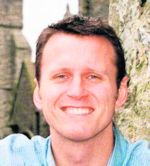 A back pain specialist is to be struck off by the General Chiropractic Council for advertising himself as a chiropractor while suspended from the register.
Christian Farthing (pictured left), a former city councillor who runs the Ideal Spine Centre at Blean, was originally suspended for professional misconduct in 2003.
The regulatory body says he is not allowed to call himself a chiropractor in the UK.
Now the GCC's professional conduct committee has ruled that he be removed from the register for "a fundamental disregard of the regulatory process".
The committee considered a complaint that during 2007/8, Mr Farthing had advertised his business under "chiropractors" in the BT phonebook.
In its findings the committee concluded: "Mr Farthing deliberately promoted himself as a chiropractor over a substantial period, despite knowing that he was not entitled to do so while subject of a suspension order.
"The committee considers that the misconduct in this case is fundamentally incompatible with continuing to be a registered chiropractor."
The hearing took place on May 13 and he will be struck off on June 11 unless he appeals.
But the former Liberal Democrat councillor and Blean parish councillor says he will not appeal and has been requesting his own removal from the register for some time because he has fundamental disagreement with the way the GCC is run.
Many of his patients have given testimonials that he has been able to relieve them of pain.
Mr Farthing says a recent independent survey among chiropractors has revealed a high level of dissatisfaction with the GCC and claimed that many others have also removed themselves from its register.
For the full story, see this week's Kentish Gazette