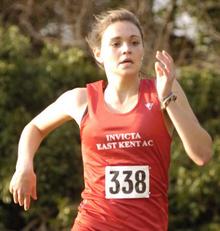 by Alex Hoad
Rebecca Weston produced a superb performance to overshadow her Invicta East Kent AC rivals Bobby and Alex Clay and claim a podium place at the Edinburgh International Cross-Country.
Weston, 18, pipped her team-mates in a sprint finish over the last 200m of the 4km under-20 race, to claim third spot in 14mins 1sec in her first ever international appearance.
Fellow GB debutant, 17-year-old Alex, was three seconds back in fourth, and 15-year-old Bobby, the youngest in the race, was given fifth place after finishing in the exact same time as her sister.
It was the first time this season that Weston (pictured), from Blean near Canterbury, finished ahead of either of the sisters, from nearby Wingham, while it was the first time any Kent athlete had finished ahead of Bobby in more than three seasons.
The IEK trio formed half of a six-strong GB squad which took on teams from the USA and the rest of Europe, with GB team-mate Emilia Gorecka winning the race in 13.46 with Jessica Judd (13.58) in second.
All three girls will return to action in the McCains Cross-Country Challenge in Cardiff on January 20.
Meanwhile, despite the absence of the Clays, the IEK under-17 women's team claimed team gold at the Kent Championships at Detling.
They held off the challenge of second-placed Blackheath & Bromley and third-placed Tonbridge, who have won the age-group for the past seven years.