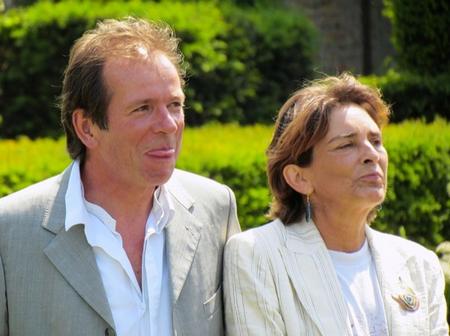 Given as little as three months to live after her cancer returned, Alice Ward was invited to stay at Canterbury's Pilgrims Hospice.
Her husband George, like many, saw it as a sign of giving up hope, but here he tells how the experience helped the couple to make the most of their final days together....
We came to the hospice in a state of raw despair and fear. The diagnosis that the cancer, operated on five years before, had come back and was now inoperable; that Alice had three to six months to live; came without warning after years of clean check-ups.
That was compounded by a brutalised lack of empathy by hospital staff. Unable to feed herself, her food was left. Dehydrated, she was without a drip for five hours, because on a weekend no doctor could be found to sign the paper.
In need of morphine for the cancer in her spine, ribs and liver, the dose was held in front of her while she was in too much pain to push herself up from the pillows to reach it.
The small hospice-related team came. "If you are in pain, the last place you want to be is a hospital," they said. "We can find you a place in a hospice."
But even as uncaring as this one ward had been, a hospital means hope, whereas a hospice, surely, is an admission of the end of hope. Some certainly do go there to die, they said, but many were stabilised and went home. No, no miracles, but home, not a hospital bed and strangers.
I work in Canterbury and a bed was available there. The first days were spent balancing a whole spread of drugs. Alice began taking notice of her surroundings again.
It's open house at the hospice. Friends wandered in as and when their work and family commitments allowed them.
It was a hot May and the garden provided both sunshine and restful green shade. Friends would come and Alice asked if I could bring in some wine for them. "No problem, but remember there's a free 24-hour bar for you Alice," said one of the staff.
Our favourite spot was a little arbour in the corner where we were brought drinks, meals and unlimited time and attention from everyone.
From the arbour we could hear the pile driver sinking the foundations for the mini Sainsbury's on the corner of Station Road West. It was the sound I heard every day from work at the Goods Shed – just a touch of everyday reality we knew we shared between my visits.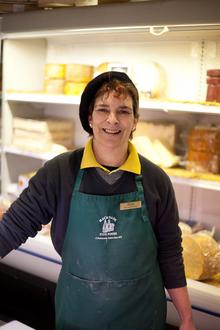 We soon found the hospice has a relaxed, rock 'n' roll attitude that marches over red tape. There's a comfortable smoking room: you smoke there or in the garden. Just don't, warned the notices, smoke if you are on oxygen.
The treatment at the hospital had left Alice cowed. During her months of chemotherapy she had never missed a day at work, insisting the treatments took place in the afternoons so she could at least work mornings.
But those few days in hospital had left her unwilling to hit the buzzer for help and more painkillers, terrified that once again she would be angering the nurses. It took the hospice staff a week of talk and hand-holding to get her to ask for help without fear.
Meanwhile, our house was being knocked down. The operative heart, the kitchen, bathroom and only lavatory, disappeared in the last phase of extension work. It was the nurses who insisted I should use their shower rooms, be given a cooked breakfast and brought endless cups of coffee.
Sometime I stayed the night, sometimes on a camp bed in Alice's room. Once, to give us a bit more comfort, the chapel had the altar curtained off and two comfy wheeled beds were put side by side.
I brought tempting little dishes of food and we dined outside in that spring heatwave. Alice with her cigarettes, me with my cigar.
The brushing away of all bureaucracy, the easy compassion of staff and volunteers, gave us a cocooned space in which to begin to face the new reality.
When we got there Alice was a body kept alive by pills and injections. After about two weeks she was asking when she could drive again. A tendency to hallucinate did not impress the doctors, but she kept pushing.
Then she began planning not just a June wedding anniversary but a renewal of vows ceremony which involved shopping at her favourite Thanet store.
The doctors and nurses were all for an outing and did all they could to help. Regular pain killers: check.
Breakthrough pain killer (to get her out to the car and over the potholes): check. A driver full of Class A drugs: check. Couple of syringes of just-in-case morphine: check. Paperwork: forget it.
And so we went shopping. Alice high as a kite, me regretting I had not asked exactly where we were going before the drugs kicked in. But we got there, bought the feathers and the red velvet hearts and headed off to Birchington for fish and chips, washed down with squirts of morphine.
Alice worked as manager of the deli counter at Macknade Fine Food at Faversham. Some of her first visitors were Stefano Cuomo, the second generation of the family to manage the store, and his sister Francesca. They brought work and began planning how they would get her to work when she left the hospice. "That's what you want, that's what you do," was the hospice attitude.
The day came when we left. The house was not yet ready so we stayed with friends. First thing was to register with a local GP to access district nurses and GP care. Instant registration is only possible if you have a close relative already registered, we were told.
I explained that my brother lived just up the road and was most likely on their books, if they would check. "Sorry, patient confidentiality, we can't tell you that," said the receptionist. We were back to form-filling reality.
But, far more importantly, Alice was back. Back in control of her life, back working, back driving, back planning and back arguing.
She did die, last month. But she died at work and with a holiday booked for the following week in the south of France.
The hospice never promised hope of a cure. But from its care and expertise came the strength to live whatever time, good and bad, that was left.

The Pilgrims Hospices is the Gazette's charity of year. To donate visit www.pilgrimshospices.org