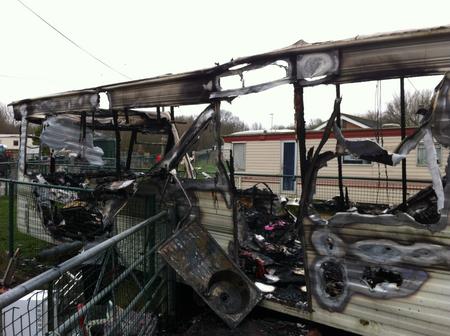 by Jamie Bullen
Three girls are lucky to be alive after escaping a burning caravan when a blaze broke while they were asleep early today.
Bonnie Woodcock, 15, her sister Terri-Ann, 12, and 11-year-old Sarah Lane were at their home in Snowdown caravan park, Aylesham, near Canterbury, when a heater set alight to a duvet.
Fire crews were called at 5.30am to douse the flames, with firefighters preventing the blaze from spreading to the girls' parents home.
The girls escaped unhurt after Terri-Ann, who was woken by smoke seeping through the caravan, grabbed Sarah before leaving.
After frantic efforts to wake up her sister, Bonnie also managed to evade the burning caravan before it was gutted by flames.
Both firefighters and relatives said they were "extremely lucky" to have survived the blaze - and warned about leaving combustible materials near convector heaters.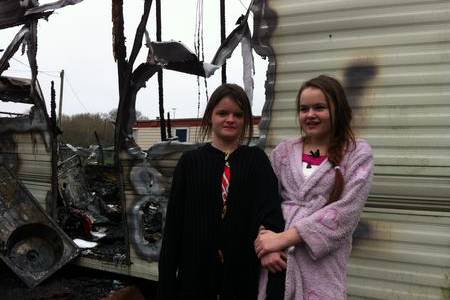 Bonnie and Terri-Ann's mum Debra Barber, 42, said: "I'm still feeling sick with worry about it now. I'm just so thankful that they are safe.
"They have lost a lot of clothes and Christmas presents, but they can be replaced unlike them.
"My first thought was I just wanted to get the kids out. If it wasn't for Terri-Ann then they wouldn't be here today."
Her partner William Lane, 61, attempted to fight the flames himself in a desperate attempt to save his granddaughter Sarah and Debra's two daughters.
"i tried to fight the fire myself, but i had no chance. they are very lucky to be here today..." – william lane
He said: "I tried to fight the fire myself, but I had no chance. They are very lucky to be here today.
"I heard the fire alarm go and I jumped out of bed. I just wanted to get them out safely.
"They will be staying with us temporarily until another one is built."
Canterbury fire station crew manager Mike Godden said the caravan was already destroyed when they reached the caravan park to help Aylesham firefighters.
He said: "The duvet was set alight and all four children managed to escape unhurt. The caravan was destroyed.
"There was a serious risk of four fatalities had the children not woken up or were overcome by smoke. They were extremely lucky."
Fire crews remained at the scene for an hour as the girls were moved to their parents' caravan.