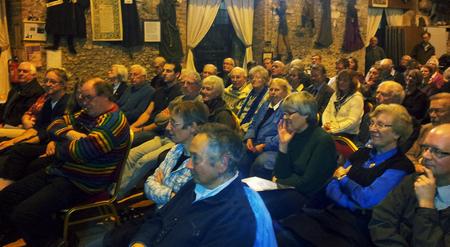 by Gerry Warren
gwarren@thekmgroup.co.uk
CYCLING, car sharing and better bus services are the key to unlocking Canterbury's gridlock, says a traffic expert.
Lynn Sloman of the group Transport for Quality of Life revealed her 'blueprint' to solve the city's traffic problems to more than 100 residents, city councillors and the business community.
She had been commissioned to make the study by the Canterbury Society who hosted the public meeting at the Dominican Priory in the city on Thursday night.
But her ideas were greeted with scepticism by some members of the audience who described them as 'airy fairy' and having 'too much carrot and not enough stick'.
Mrs Sloman, who is a former Simon Langton girl, said that as a compact city, Canterbury simply did not have the space to be car centric.
But she believed there was a 'fantastic opportunity' to tackle its traffic problems in a way cities like York, Exeter and Bristol were already doing.
She said: "It takes vision and determination and a will to go for it. Using the bus, walking, cycling and car sharing will make it easier to function. Canterbury, with all its students, could also be the perfect city for cycling if we invest in high quality routes."
Mrs Sloman said studies of the Census revealed 60% of people who travelled into the city to work were driving in from relatively short distances away.
She believes key areas for encouraging less reliance on cars were to make the city more cycle friendly, put on more bus services and promote car sharing.
She said: "There is a feeling that we can build ourselves out of traffic problems with new roads, but the evidence is that if you provide more space for cars it will just fill up with them."
But she admitted that many people were locked in a mindset that driving was 'the norm' and using buses had the image of being a second class citizen.
She said: "There is no magic bullet and it won't happen overnight. But everyone has a role to play and with lots of small scale changes we could reduce car use by 9% in four to five years."
Although the meeting specifically did not focus on the controversial Westgate Towers traffic scheme, Miss Sloman believed the trial should continue to its conclusion so a proper evaluation could be made.
After the hearing Canterbury Society chairman Jan Pahl said: "I thought it was a very interesting meeting which provides all of us with food for thought to take away.
"What is clear is that there isn't one big fix but lots of small scale things can make a difference."