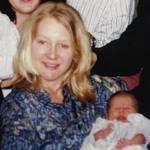 An artist from Whitstable who was found dead in a shed at her home is believed to have committed suicide.
Concerned neighbours raised the alarm and when police went to the house in Island Wall they found the body of Tracey Dee, 43.
Her father Philip Dee, who lives in Wingham, said his daughter's death had come as a complete shock to him and his wife Alison, Tracey's step-mother.
He said: "I don't understand why she did this and I cannot get my head around it.
"She had so many friends who also can't understand it and she knew so many people in Whitstable.
"She loved living there near the sea and had so many plans for the future. It just does not make sense."
Miss Dee was born in Warwickshire and when she was 15 months old her mother died giving birth to her brother, who also died.
Mr Dee decided to return to his home town, Sandwich, to be near his parents and then remarried and moved to Dover where he ran a guest house.
Miss Dee went to Vale View Primary School and Astor Secondary School, in Dover.
"i don't understand why she did this and i cannot get my head around it.
" – tracey's dad philip
Although she had always been artistic - getting top marks for the subject at school - she went to work for HM Customs for 13 years.
Then she decided to pursue her dream and completed a BA in fine art at Kent University.
Miss Dee was qualified in sign language, had completed a post-graduate certficate in education at Canterbury Christ Church University and had just finished a course on teaching children with dyslexia.
She had also acted as mentor for children and adults doing art and in the summer had set up workshops in art for local children.
About eight years ago she moved to Whitstable. At first she rented a house in Island Wall and then bought her home in the same road.
Mr Dee said: "Tracey loved Whitstable, the beach and its artistic community and that was the reason she moved there. She had built a lovely studio in her back garden, where she worked.
"The house was a bit ramshackle when she bought it but she did lots of work on it, including moving the staircase, and it was really beautiful.
"She had just had plans passed for an extension, which we were about to start work on. She also had a dog she doted on and walked along the beach almost every day."
Miss Dee's body was found on Wednesday, December 19.
Mr Dee had seen her twice on the previous Friday and had spoken to her on the Sunday but when he rang her on Tuesday and Wednesday he got her answerphone.
Her stepmother Alison said: "Tracey was always interested in art but wanted specifically to teach children with disabilities. That was where her talent lay and she had massive amounts of patience."