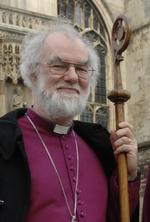 Archbishop Rowan Williams has been awarded the freedom of the city of Canterbury as he prepares to leave the city after nine years of service as head of the Anglican Church.
Dr Williams who was enthroned in Canterbury in February 2003, will leave the post next month to be replaced by incoming Archbishop the Right Reverend Justin Welby.
On Saturday he was awarded the freedom of the city by Canterbury City Council and attended the first of several planned farwell services at Canterbury Cathedral on Sunday.
Accepting the honour at a packed Guildhall in front of members, MP Julian Brazier, the Lord Lieutenant and other freemen of the city he paid tribute to the city.
He said: "May I say what a great sense of honour and delight I have felt being awarded the freedom of this city.
"I am deeply grateful.
"Canterbury has become such a valuable part of life for me and my family. It has been a holy place for us.
"I look forward to continuing that connection."
Dr Williams added he was hopeful of exercising the ancient right of a freeman to herd sheep through Canterbury city centre to raise money for charity.
He also took time to praise his replacement Justin Welby by saying he looked up to his talents and gifts.
He added: "If he is half as happy as I was then he will be a very fortunate man."
City council leader John Gilby proposed to award Dr Williams with the freedom of Canterbury which was unaminously agreed by members on all sides.
Cllr Gilby highlighted the Archbishop's endless humanity and his work across the city visiting schools and helping the homeless.
He said: "Your work has had a huge impact on Canterbury's most vulnerable residents.
Liberal Democrat leader Cllr Alex Perkins seconded the proposal adding he had been sure Dr Williams would be a success in Canterbury from the first time the pair met.
He said: "Rowan, you have taken the time to support local causes – and tackle many important local issues - like homelessness – issues that affect people throughout the district - as they continue to affect communities up and down the country."
A service at Canterbury Cathedral is due to take place at 3pm on Sunday.