by Chris Price
An internet craze has seen Herne Bay overrun with more than 100 costumed dancers.
The town's version of the Harlem Shake - which has taken the internet by storm - took place yesterday afternoon and is on YouTube.
The video sees a man in a spiderman outfit dancing for 15 seconds in the plaza by the clocktower before he is suddenly joined by scores of other dancers.
It took less than a day to organise the rave next to the clock tower, after word spread on social media.
The man inside the spiderman outfit was Dave Ware of the Herne Bay Promo Team, which was behind the video.
"It was a good laugh and the great thing about it was that in 24 hours we had got people out and doing something on a nice day," he said.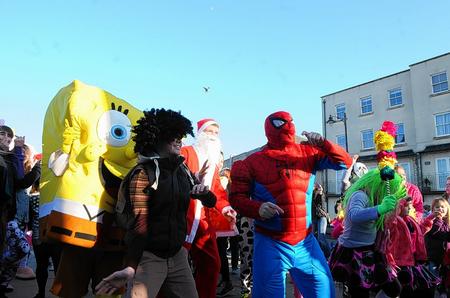 "If you put something on for free, even if it is just for 10 minutes, people out there will do it.
"It brought families out in the nice weather when they might have been sitting indoors doing nothing."
Mr Ware, 53, of Stanley Gardens, is a teacher at Herne Bay Junior School.
His son Nick, 28, filmed the video on the steps of the clock tower.
The Promo Team set up the event when Herne Bay resident Elena McEwan got in touch with the idea.
"What I love about being a member of the Herne Bay Promo Team is it is sporadic and fun," said Dave.
"We love doing wacky things and bringing families together."
The Harlem Shake went viral on the internet earlier this month.
Five teenagers from Queensland, Australia, uploaded a video of them dancing to Harlem Shake by New York producer Baauer and the craze quickly spread across the globe.
The videos last about 30 seconds and begin with one person dancing to the song alone for 15 seconds, surrounded by people unaware of the dancing.
When the bass drops it switches to an entire crowd dancing.
More than 40,000 Harlem Shake videos have been uploaded to the web, totalling 175 million views.
As a result, Baauer's single reached No1 on the US iTunes chart and No2 on iTunes in the UK.
More pictures inside this week's Herne Bay Gazette.