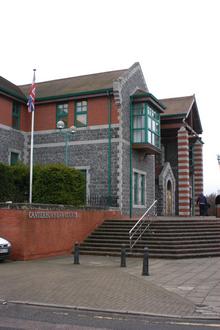 by Paul Hooper
A father-of-three who smashed a glass into the face of a pub drinker has been spared jail... because he is caring for his dying father.
Loving son Robert Foulger, 46, claimed if he was sent to prison for the nasty attack his 90-year-old dad would have to go into a home.
His barrister Paul Hogben told Canterbury Crown Court the father was suffering from serious illnesses and might die "within a matter of months".
"If he goes to jail he would not be there for his father."
Divorced Foulger, of Chestfield Road, Whitstable, had been convicted of unlawfully wounding Danny Goodall in the Plough pub in Swalecliffe in June last year.
But a judge warned him had he been convicted of the more serious wounding with intent charge he would have been sent to prison for up to six years.
Instead he was given a two-year jail sentence - suspended for two years - and told he had to do 200 hours of unpaid work.
He had denied both charges, but was convicted of the lesser charge.
Trevor Wright, prosecuting, revealed how Mr Goodall, who had been staying at the pub, was drinking in the bar where Foulger was with his son Alfie and daughter Daisy.
Mr Wright said the victim became aware that abuse was being directed at the bar manager Alan Coker by Foulger, who had downed six or seven brandies.
Mr Goodall told foul-mouthed Foulger to shut up and the two began arguing "for about 10 seconds".
It was then that Foulger, who had a glass in his hand, walked over to his
"you have escaped going to jail by the skin of your teeth…" – judge james o'mahony
victim and struck him in the face – causing the glass to smash on impact.
Mr Goodall later needed stitches for a 3cm cut to his face.
Foulger – who later rated himself "6/7 out of 10" for being drunk – claimed the argument had been started by Mr Goodall who had punched him in the face.
Mr Hogben said the attack was "totally out of character" by Foulger, who quit work 16 months ago to take care of his father.
"His father suffers from very serious mental problems and is unable to care for himself. The defendant's concern is not for himself but for his father."
Judge James O'Mahony told Foulger: "That just about saves you from going straight to prison.
"You have escaped going to jail by the skin of your teeth."
Foulger was also told he will be under partial house arrest for the next three months – and will have to remain in his home between 6pm and 6am.