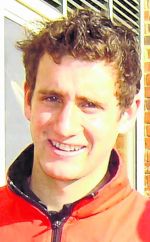 by Alex Hoad
Striker Stuart Vahid said his only wish upon announcing his retirement was that he could have enjoyed more success with Whitstable.
The 32-year-old quit the game this week due to a degenerative knee problem brought on by a serious cruciate ligament injury sustained playing for Ramsgate in the FA Vase quarter-final in 2000.
Vahid scored 44 goals in 130 appearances for the Oystermen in two spells after first joining in 2009.
During a 16-year career, he had three stints at Ramsgate, where he made his first appearance and short stays at Deal, Sittingbourne and Chatham.
Talking about his knee, Vahid said: "It's had a lot of wear and tear since the injury and taken a lot of punishment.
"It's aching and swelling up after training and games and I work as a bricklayer, so I'm on my feet all day. I decided it was time to call it a day.
"I've got two girls aged eight and four and it will be nice to spend some more time with them.
"I made my first-team debut at 16 and ever since then I've been out at training and playing a couple of times a week.
"I have to say it was nice to stay in the warm with the family instead of going training on Tuesday night."
He added: "I won the Kent League at Ramsgate which is one of my best memories. I just wish I'd had more success like that with Whitstable. They definitely are the best fans I've played for and I've enjoyed my time there."
Vahid said he was undecided'about whether to accept an offer from Town boss Nicky Southall to coach the forwards at The Belmont.
Do you think Vahid would make a good coach? Have your say below.