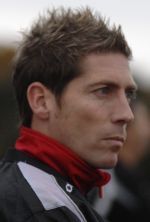 by Alex Hoad
Nicky Southall is keen to play down the significance of Whitstable's looming Boxing Day derby with Herne Bay.
The new Town boss takes his side, unbeaten in his first two games at the helm, to Horsham on Saturday but all anyone wants to discuss is the first competitive meeting between the two clubs – separated by just five miles – since the Oystermen won the Kent League in 2006/2007.
Southall (pictured) admitted: "I am only focusing on Horsham. I want to take it one game at a time but I've had people coming up to me in the past week saying how important the Herne Bay game is for both clubs."
Despite Horsham sitting just a place above 18th-placed Town ahead of their trip to Sussex, only one team have won more home games than the Hornets this season.
Southall said: "It's a difficult game, make no mistake. We will have to earn the right to play. It will be a battle but we have the carrot that we can go above them with a win. We are two games unbeaten and we want to make it
three.
"We want the momentum to build and build and get bigger and bigger."
Laurence Harvey could miss the festive programme with a muscle strain picked up in the warm-up before Saturday's game.
Do you think Whitstable can keep their unbeaten run going into the derby game? Have your say below.