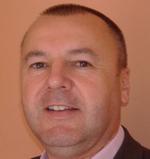 by Alex Hoad
Whitstable Town chairman Gary Johnson said he took the decision to sack Justin Luchford with a "heavy heart" as he had been his "biggest sponsor" during his time with the club.
Mr Johnson relieved Luchford of his role at training on Tuesday night and revealed: "The decision was taken based on the current results and league position, plus a couple of other off-field issues.
"I did it with a heavy heart because I was Justin's biggest sponsor at the club and have always worked hard to support his work.
"It was in the best interests of everybody. I didn't want to see him go but we have set up a tight ship here. We have excellent players and we hope to retain them but the club need a team.
"We desperately need points on the board, people coming through the gate and for the morale to improve. Hopefully everyone – supporters and players – will now rally around Richard Langley and Nicky Southall."
Mr Johnson revealed he had received plenty of interest in the role within 24 hours but added: "There is nobody in the wings. We'll look to get through a few games before we decide what direction to go in."