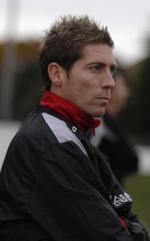 by Alex Hoad
Nicky Southall says striking the right balance of 'winning ugly' and style is the key to his Whitstable side climbing the table this season.
The Oystermen's aim to follow up their fine 4-0 win over Worthing on Saturday was hit as Tuesday's game at Horsham was postponed and Southall admitted: "We were looking forward to playing again.
"The break did us some good and once you get that win, you want to play again as soon as you can and try to get some momentum going. That's the only way you're going to climb the table."
Southall went to watch neighbours Faversham beat upcoming opponents Tooting on Tuesday and said: "The conditions were difficult but they managed to win ugly.
"Nobody will remember that game but their manager will remember the three points at the end of the season. With the state of the pitches at the moment, you just need to get through games sometimes.
"You want to keep possession, you don't want to start hoofing it long because you'll lose it that way. You need to be brave and try to play football."
He added: "We want to get away from the bottom and if we can do that, we can play with more freedom and zest which comes from the new-found confidence."
Promotion-chasing Crawley Down visit The Belmont on Saturday with Town only missing suspended striker Danny Williams.
Do you think Town are capable of going on an unbeaten run? Have your say below.