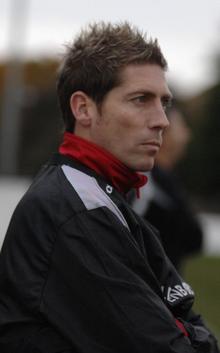 by Alex Hoad
Nicky Southall says the enforced lay-off has given his new-look Whitstable squad the chance to bond which he hopes will help them finish the season strongly.
Only goal difference is keeping Town out of the bottom three and player-boss Southall has introduced the likes of Dan Hanshaw, Luke Coleman, Ebenezer Masade and Danny Williams, as well as Gills work experience youngsters Frankie Beale and Tom Brunt, to his side in recent weeks.
Southall revealed the squad had enjoyed a three-hour session at the 44Two facility in Medway which Southall part owns with former Gills boss Andy Hessenthaler.
Southall (pictured) said: "We have brought in a lot of new faces lately and when you have intense training sessions like that, it helps the players bond.
"We've thrown people together but there is a real unity and togetherness in the squad. It's pulled people together, the past couple of weeks. We've gelled."
Town have lost all three games this month but have not played since January 12 and Southall added: "Hopefully, the break might help us. You can put the defeats out of your memory and start looking forward."
Supporters went to The Belmont on Wednesday to clear the pitch of snow and Southall said he hoped to repay their efforts with a good performance if Saturday's game against Worthing goes ahead.
He said: "When you have local people coming out to help you like that you feel like you owe them a performance. Hopefully, the game will go ahead and we can get them a result."
Do you think the break can benefit Town? Have your say below.