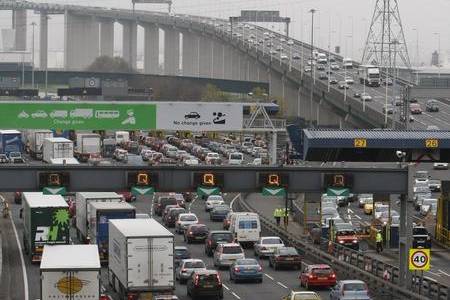 A white van driver was killed after deciding to cut into a slip road near the Dartford Crossing, an inquest heard.
Coroner Roger Hatch recorded a verdict of accidental death on Tony Charles, 51, after witnesses told how the van smashed into a slip road barrier and went out of control last May.
It then ran into the path of a lorry laden with 32 tons of sand.
Witness Christopher Pratt said after hitting the barrier, a rear wheel came off the van and it went out of control.
It bounced back and forth between the crash barrier and the lorry.
"It appeared to me the driver had taken a late decision to get off the main road," he said.
"It rebounded a number of times causing considerable damage to the van."
The accident caused major delays for several hours while forensic tests were carried out at the scene.
PC David Burley, who investigated the accident, said after Mr Charles left the tolls he drove too close to a lorry in front, swerved late to take the A2 slip road and illegally crossed road hatchings.
The sand lorry was driven by Iqbal Singh Rai from Slough.
Mr Hatch said: "Mr Rai had no chance to avoid that collision."
Mr Charles lived in Brackendale Grove, Luton.