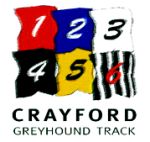 In our top grade races, the balance of power seems to have taken a shift towards trainer Julie Luckhurst's kennel, with her dogs performing consistently well over 380 and 540 metres.
This was highlighted on Saturday night when she sent out winners in open races over both trips and also won a top grade S1 race to round off an excellent night.
Selkirk Souter is now arguably the best greyhound we have here over 380m and her win in the Crayford Bookmakers Sprint Open was her sixth consecutive success which included a notable victory in the Tony Morris Memorial Rose Bowl in early December.
Since joining the Luckhurst kennel last May, she has run 17 races here, winning 11. That sort of record speaks for itself and her connections have much to look forward to given that the dog will not be three until May.
She will remain a major player here in this year's big races over the sprint distance.
I have mentioned Tarsna Inca before and she has not disappointed her followers when running over 540m, which clearly suits her better than the 380m trip.
Having started her career here almost a year ago in middle grade A4, she has made rapid progress – reaching the top grade A1 within three months – and has since won seven open- class races at Crayford.
Given just how good she is, her starting prices always seem to be reasonable to me and she is virtually uncatchable when leading early on, as she proved yet again on Saturday when romping home at odds of 5-2.
At graded level, Burgess Lad has been taking no prisoners lately with a hat-trick of victories over 540m in top grade S1.
Interestingly, Luckhurst has not yet entered him into an open race here but it cannot be long now before she will be tempted to do so.
While Tarsna Inca won her open over the same distance in a time of 34.21sec, Burgess Lad managed a 34.36 in his race which is his fastest recorded time over 540m to date in his 16 races here.
The dog's progress has not been hurried but we can expect him to take his chances soon against open-class greyhounds and he should figure well if he continues to make improvements.
In my last column before Christmas, I had indicated both Selkirk Souter and Burgess Lad would run well and this was further complemented by Pebbles Del, who won at odds of 7-2 before Christmas.
The above Luckhurst dogs should give you a good start to the year. Follow them with confidence.
The track's top race of the year, the Ladbrokes Golden Jacket, starts with the heats on Saturday, February 2.
This race has a winner's prize of £15,000 and, as usual, will attract the top dogs from around the country.
The semi-finals will be on February 9 and the final on February 16. Both will be staged on the Saturday morning card.