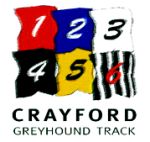 Jims Journey, trained by Barry O'Sullivan, has been representing the track well in the first two legs of the BAGS Track Championship for 2012.
In the area stages, Crayford were grouped with Sittingbourne and Hove and little Jim has won both races in the legs at Sittingbourne and his home track.
The third and final leg will be at Hove on November 28 and a hat-trick of wins is possible.
I am not expecting him to return to graded and open racing here until after this event has been finalised, however the experience gained will benefit him.
This Saturday evening's card will feature the final of the latest Owners Bonus Series race, which, on this occasion, is for grade A8 greyhounds.
The two semi-finals run last weekend were won by Venture Free and Buglys Teeny in 24.10 and 24.13sec respectively. With both winners having had trouble-free races, we can expect a close final this weekend.
The other qualifiers were Keady Brae Gotya, Doctor Ava, Startaway and Saoirses Scolari. So, who will win?
Saoirses Scolari will occupy trap one – the first time in her five-race career.
While the local layers sent her off as favourite in her semi, she could only manage third and, as in all of her other runs, she was slow away.
Trap two goes to Keady Brae Gotya. Not the fastest of trappers, she missed her break in the semis.
Buglys Teeny will run from trap three. On paper, she should lead traps one and two to the first bend.
Startaway was making his race debut last week when finishing behind Venture Free and did little wrong when leading all the way to be caught literally on the line by just a neck. If he repeats and there is any sort of trouble behind, he could well win. He will start from trap four.
Venture Free has trap five and is now on the outside of Startaway. I can see this giving an advantage to the latter. Can Venture gain enough lead to the turn?
Doctor Ava starts from trap six. She started from five in the semis but has started from six in her other career races.
Trap five saw her record her fastest-ever sectional time but she will find it difficult to clear the two dogs on her inside. I will go with Startaway to win.