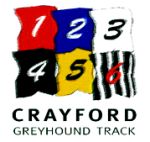 Thursday afternoon's meeting features six races in the BAGS Track Championship 2012 series.
If you come along, you will see our dogs competing against greyhounds from both Hove and Sittingbourne tracks in the second leg of this area stage.
The first leg was staged at Sittingbourne.
Gates open at 1pm with free entry and race card. First race will be at 2.18pm.
On Saturday, we will also be featuring two big race finals.
The JB Riney MBE Kent Champion Hurdle is run over 540m and carries a winner's prize of £500. This race has received entrants from Sittingbourne as well as a strong-looking contingent from Wimbledon.
Hurdle specialist Jason Foster, who trains at Wimbledon, will be hoping his Whiterock Champ will manage to get a win here.
The dog has vast experience and has run over hurdles here in the past but the best he managed was a runner-up finish. He has a big chance of drawing a favourable trap in the competition.
Foster also has two other representatives in the heats stage – Druids Mickey Ma and Clonkeen Theo. The former is fairly new to hurdle racing, however Theo has had more than 50 career races and is a winner over the sticks.
Other entrants come from Sittingbourne and Yarmouth – the latter track will be represented by Farloe Bowser, a previous winner over the sticks at no fewer than four different tracks who is in top form. It should be a cracking final.
The card will also feature the final of the John Davidson & Colin Wilson Memorial Trophy.
As usual, a class field has been assembled with all chasing a £1,250 first prize.
This annual race run over 540m flat was won last year by Diesel Malc. You can safely follow the dog that wins this race after the event as they have a habit of producing plenty of wins.
I try, as far as is possible, to watch our trials sessions here at the track. These are not competitive races but staged for dogs returning from seasonal rest or injury, together with new dogs trying to do the time required to get on to the full race card.
These sessions prove to be invaluable when looking for winners so this week I would recommend you watch out for Unity, Cals Lonely and Boozed Coline. All three dogs have put in fast times during trials.