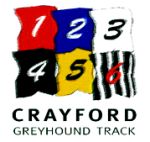 Crayford is currently one of 18 tracks involved in the BAGS Track Championship 2012 event.
There are six groups each containing three tracks and Crayford are competing against Hove and Sittingbourne in the area stages which will generate a winning track from the three. The six regional winners will then meet at Belle Vue in Manchester on December 23 in the grand final.
Each of the three tracks stage a home leg and our home fixture will be here on Thursday, December 15.
There will be six races with two dogs each from Hove, Sittingbourne and Crayford in each race all running to gain maximum points in the competition.
Our greyhounds did not do so well in the first leg at Hove last week so we will be hoping to make the most of our home advantage now. This is a rare chance for you to see an inter-track competition so with free entry and race card, why not come along and support the home team.
There were a couple of nice wins at the weekend from Glandart Muraly making his debut and Cliffs Blueboy, both are worthy of note.
The former was sent out by trainer Julie Luckhurst in a grade A6 race over 380 metres and did well to hold on to his lead to win by a head.
In the dogs' three trials which have to be completed in order to get onto the race card, he reduced his finish times each time by significant amounts and that trend continued in his first full race as he recorded 23.94 seconds which is a good time for a debut race.
He gave the opposition no chance as he led away from the traps and stayed on well to hold off the late challenge from In My Hands who was only having her second run.
On Saturday night, Cliffs Blueboy, who had narrowly been beaten in his first race a week earlier, went one better and got his just reward when winning impressively.
The Barry O'Sullivan-trained dog held on bravely to win a close race. The May 2011 son of Droopys Maldini has a lot to look forward to given his young age and he will not lose his puppy status until next May so his owners will be looking forward to their dog's reappearance. He is a nice prospect.