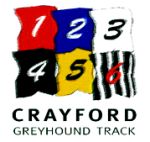 It is precarious to give your racing greyhound a name that indicates a certain style of running or a certain outcome in a race.
We have several dogs in this category, including Gonetoofastagain by Gemma Davidson.
The puppy, who will not be two until February, had his first career race here a week ago and, while the racegoers may have latched on to his name, he finished last.
Sometimes, however, the name works and had you been here last weekend he would have rewarded you at odds of 6-1 as he won his second race by no less than eight-and-a-quarter lengths.
Could it be that I have got it wrong all these years thinking a name isn't a good way of picking winners?
I do not often tip dogs over hurdles but feel obliged to point you in the direction of Kilorigan, who has three wins from seven starts.
The dog had races on the flat in Ireland at Clonmel before joining Pat Thompson's kennels in the spring and has shown a liking for his new venue.
If it is value you are after then he could be your dog, having started at odds of 5-1 or higher in all but one of his seven races to date.
Having raced six times in grade H3, it may now be time for him to be upgraded to H2. The dog has one previous race at that level and finished fifth.
My advice is to wait for his next race in a H3 event.
In the Dog and Bitch of the Month event for October, we have three greyhounds on three wins each. Trainers and connections of Blow By Ruben, Clash Peggy and Islay Son will be wanting to notch up that fourth win to clinch the award.
Friday night's meeting is in aid of the "Wear It Pink" breast cancer charity appeal. All ladies will receive free admission. Call 01322 557836 or visit www.crayford.com for details.