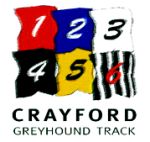 The 2012 final of the John Smiths Kent St Leger will be run on Saturday, with the six participants chasing the £2,500 winner's prize.
The race goes off at 9.24pm over 714 metres and, on paper, we can expect a competitive event over the full two circuits.
As an "open" race, the trap draw is down to luck and with just one seeded wide runner the other five finalists would all have been hoping for a beneficial trap draw.
As is usual, the draw will undoubtedly play a large part in proceedings and a greyhound's chances may evaporate early on if they experience a bad break away.
On the positive side, however, is the fact that the race is over 714m so there will be a chance to recover from early trouble.
So how have the finalists fared in the trap draw?
What seems apparent is that Lottes Girl, in trap two, will want to go to the right when she exits the boxes while Westmead Amour, in trap five, will want to go to the left when he traps out.
This, in theory, should therefore see bunching in the middle of the field giving Mullrook Proby, from trap one, and Crinkill Jewel, from six, clear runs to the first corner.
Greyhounds have an individual style of running, which is dependent on how they like to course the hare but they are consistent and I can see trouble if traps two to five look for their usual running ground.
Their chances may rest on one of them getting a flying start and clearing the trouble early.
It is a difficult call as to which of the foursome may break best but my feeling is Mountjoy Orion (trap three) may steal a march on the rest.
Crayford's only representative, Mullrook Proby, trained by Paul Tompsett, has had his chances of success enhanced having drawn trap one. It is a concern to me, however, that he is prone to slow starts and bumping early on and his chance will be dependent on getting away quickly and holding his place against the inside rail to the bend.
Should he be able to do so, he has the clock times to suggest that he could spring a major surprise and land a home win. His starting prices in the heats and semi-final were 25-1 and 28-1 respectively, so you can expect a good price.
My view is that either Westmead Amour or Crinkill Jewel will win this final.
Amour won his heat race in 45.70sec, which none of the field can match but he must hold off Jewel from trap six to the first bend. Amour won the heat race, with Jewel three-and-a-quarter lengths behind, but Amour had trap one. Can he produce the same from five? It is a big ask but he is my idea of the winner.