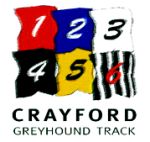 I hope that you are all jumping for joy after I tipped you hurdler Kilorigan last week.
The dog, as I had expected, was duly upgraded but made light of the better class of opposition as he romped home on Saturday evening at generous odds of 9-2.
What made the win even more impressive was the fact that the dog missed his break but showed tremendous early pace to lead out of the second bend to take control. A second tipped winner Blow By Ruben also scored at odds of 3-1.
Miss Spectacular seems to be getting the hang of things after winning her second career race here during the week.
Her debut race saw her incurring the expected inexperience problems which resulted in a fifth place finish. However, she clearly had benefited from that race as she led away from the traps to win at the second time of asking.
Her win time of 23.95 seconds is the first time that she has gone under the 24.00 barrier and that would indicate that further improvement can be expected during her next couple of races.
She will be a value bet if upgraded to A6 level and as an out and out railer, she will have the added bonus of running from trap one.
I am following with interest the progress of Tomars Conor trained by Paul Tompsett who went off and won as a strong favourite in just her second race last Friday.
Starting at odds of even money, she won by no less than six and a quarter lengths repaying her supporters. This followed on from a good performance a week earlier when finishing second in her debut race. Clearly her fast sectional times, trap to line, will see her win more races here. From her two races and three trials, she has managed to go under 3.60 seconds three times so she will probably improve even further in that particular area.
The bookmakers' prices in her next race may be your best guide but they certainly are aware already of her potential.
Catunda Florence became the latest greyhound to join the elite A1 ranks over 380 metres and announced her arrival is style winning at this level at the first time of asking at odds of no less than 8-1!
She won this on merit having led early only to be over taken by Melodys Patsy. However, Florence refused to give in and regained her lead around the last bend to get up to win by one length. Follow with interest.