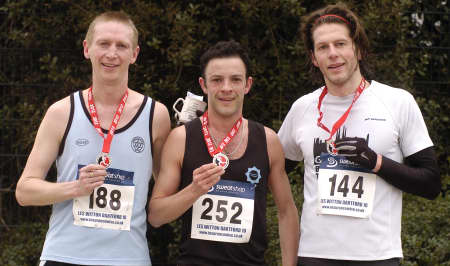 Peter Tucker, of Blackheath and Bromley Harriers, won the postponed Les Witton 10 mile road race in Dartford with a time of 57mins 52sec.
Only four men beat the hour and the pace set by Tucker, a Metropolitan policeman based in Lewisham, was closely challenged by unattached athlete Simon Roost (58.15), Mark Penny (58.36) of Cambridge Harriers and Stephen Dipre (M45, 59.23) of New Eltham Joggers.
Local athletes in action on Sunday included Gary Bryant (M40, 62.47) of Dartford Road Runners; Simon Parrin (64.48) of Istead and Ifield Harriers; Adrian Moody (M45, 66.30) of Medway and Maidstone; Chris Desmond (M45, 67.01) of Sevenoaks; Bob Fursey (M45, 67.44) of Medway and Maidstone and Stephen Poole (68.09) of Larkfield AC.
Tina Oldershaw (W40, 63.16) of Paddock Wood was an excellent seventh overall to head the women's race from club-mate Claire Day (67.35), who improved her previous best by three minutes, and Kate Mills (W40, 67.55) of Springfield Striders.
Heather Fitzmaurice (W40, 70.48) of Sevenoaks AC was fifth and Rosie Ferguson (72.37) of Blackheath and Bromley was the leading W45 master in sixth place.