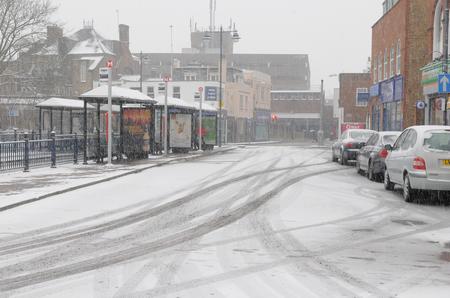 Boys said to have terrified shoppers in Dartford when a gang ran riot during the snow have been banned from the town.
Kent Police said the teenagers were responsible for creating mass disorder - hurling snowballs loaded with rocks and stones at pedestrians and cars, damaging shops and threatening passers-by.
Now six teenagers - aged 14 and 15 - have been arrested at their homes over the two-day rampage last month.
Officers gave four reprimands and two final warnings, all for affray.
All six youths were handed banning orders from the Dartford Town Against Crime Group so they cannot enter any shops for six months.
Kent Police said more arrests are planned over the disorder in Dartford after heavy snow on Sunday, January 20.
DC Richard Allingham said: "This was a disturbing and prolonged incident that brought real fear to residents, traders and security staff in the town.
"There is a difference between some good-natured snowball fights and deliberate, mean-spirited disorder, and this incident was a determined effort by a few to cause havoc and fear to the public trying to go about their normal business."
Sgt Karen Radford said: "We absolutely will not tolerate this sort of behaviour and we hope our actions today will not only show the perpetrators how serious their actions were but will also discourage them and their peers from behaving in a similar fashion in the future."