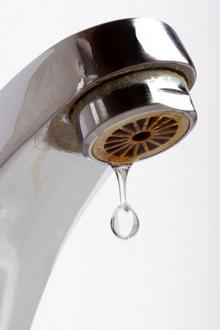 by Julia Roberts
juroberts@thekmgroup.co.uk
A builder left without water for more than 24 hours after a leak from a mains outside his home has poured scorn on the utility company responsible.
Despite repeated premium rate calls to Thames Water, Wayne Sprigg was left borrowing buckets of water from his neighbour so he could wash and use the kettle.
The 52-year-old first lost water yesterday morning. By 1pm he was assured by a company representative who visited his home in Burnham Road, Dartford, that he was a "priority" and an engineer would try to fix the problem within four hours.
However, 24 hours later Mr Sprigg was still awaiting an engineer - and his water supply.
Mr Sprigg said the leak from the mains outside his home also left a 10ft wide icy puddle on his driveway and pavement.
Mr Sprigg said since he first reported the leak a week ago two people from Thames Water have been out to assess the situation - one on December 7 and the second yesterday after he lost his supply.
A spokesman for Thames Water said today: "We discovered a leaking valve yesterday and after shutting off the supply to stop the leak, requested that a team repair the faulty equipment that afternoon. This did not happen and for that we apologise.
"We will be attending this lunchtime to fix the problem and get the water supply back on. We are really sorry for the inconvenience this has caused."
By 1.45pm, Mr Sprigg was still waiting...