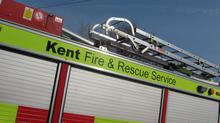 It was a busy night for Dartford firefighters.
At 8pm crews were called to Priory Court on Priory Road to reports of a woman in her 50s trapped in a lift.
Firefighters were on the scene for about 10 mins while they extricated her from the elevator.
Fifteen minutes later they were called to Kent Road in Longfield to a chimney fire.
At 2am there was a fire in a Kebab shop on Swamscombe High Street.
There were no injuries or damage recorded and the incident is being investigated by the police.
At 5.30am crews were at the station on Watling Street, Dartford when they heard a skid and a bang outside.
A Transit van had hit two parked cars and rolled over on its side into a garden.
One man, believed to be in his 50s, was trapped inside and crews spent 45 minutes getting him out.
Police closed the road for an hour and an ambulance took the man away with head, neck and back injuries.
At 5.45am crews were also called away to a car fire on the M20 and were joined by Larkfield and Sidcup firefighters.