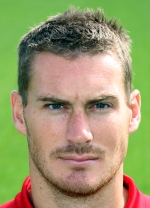 It may have taken me a few months longer than I hoped but earlier this month I started my first match in the Championship.
It's been a frustrating season for me so far. I've been out of the team and picked up an injury and there hasn't been much other football but I've now played my part in two league wins in two games.
Last seas.n, Leon Cort had to bide his time and wait for a chance and the boot has been on the other foot for me so far in 2012-13.
But I got my chance when Corty suffered a hamstring injury on New Year's Day and it's been great to be back involved again.
I'm not a great watcher of games. Every player wants to play, so it's been hard for me when I've not even been in the squad and it's hard to stay and want to watch.
You do talk about loan moves and what have you but now I'm back in the fold for a couple of weeks, so let's see what happens.
I certainly want to test myself in the second tier. I've had three promotions in the past five seasons, so I've played my way up through the divisions and playing in the Championship is different compared to playing non-league in front of a handful of people.
It makes you appreciate the standard of football you are playing at and how hard you have to work to play at this standard.
My objective is try to achieve as much as I can out of the game. Championship football is a seriously high level. Of course it's going to be tough but you shouldn't want it any other way and you have to relish the challenge.
Saturday's match against Sheffield Wednesday will be another test for us to rise to as we try to maintain our recent winning momentum.
First and foremost, it will be a challenge to get the game on after all of the snow that has fallen and the recent freezing temperatures.
The ground staff have worked tirelessly at our Sparrows Lane training ground to clear away a section of green among the white for us to train on and I know similar efforts are taking place at The Valley, with supporters also lending their assistance.
We're preparing as we would for any other match and are desperate to get out there and try to add another victory and continue climbing the table.