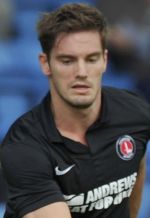 Losing our recent unbeaten run last Saturday was disappointing because for the majority of the game against Bolton, we felt that we were well on top.
But in some ways, it shows how far we have come this season.
In the first few months, we took our time to get settled into the Championship. I'm a new arrival, having joined in the summer, but the Championship is a big step up from League 1.
That was illustrated at the Reebok Stadium when Bolton brought on their two substitutes late in the game, David N'Gog and Martin Petrov.
Both players have an abundance of experience of Premier League football and it was N'Gog who proved to be the difference. To have quality like that on the bench shows the strength Bolton have in their squad and perhaps it shows how well we have been doing recently by the fact that their win only took them one place above us in the table.
It was interesting playing against Kevin Davies, who has played for England and is an experienced player who is strong and uses his body well. But now I have more experience against this type of striker.
Our next match is also away from home, at Sheffield Wednesday on Saturday, and after losing our first away match since mid-September last weekend, we want to start a good new run.
It's the first match of what everyone calls the festive fixtures and there are plenty of games over the next few weeks.
Although I first came to England in 2006, this will be my first proper experience of being involved and playing over Christmas and the new year.
When I was at Tottenham as a young player, I wasn't in the first-team squad all of the time and when I went on loan to Southend, it was at the end of January for the second half of the season.
I'm looking forward to it. I know that football at this time of year is a traditional part of the English game, so it's going to be good to be involved.
After playing in midfield earlier this season, I've been at centre-half for the past three matches but I don't mind which position I play. As long as I am playing, I will always give my best.