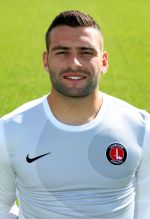 Over the past couple of seasons, I've received plenty of compliments from coaching staff and my team-mates – but not played many games.
Those sort of things – that I'm a good trainer and good to have around the dressing room – are great to hear.
As a footballer, you care what the manager says and the staff as well but it's what your team-mates say about you that really matters, especially if they are praising you. But I want people to say 'he's a great goalkeeper' too.
It's important to be happy in your work and I love being a footballer. I know that I'm lucky to have this job. Having said that, I need to play more and there is going to be a time when I need to go and play and prove myself.
I've never played Championship football and it's been tough not to be involved this season. Last year it was great being involved with the lads as second choice but even then I wanted to be playing.
Mentally, I've been OK and you try not to show any frustration, although I've had a couple of private moments when I've been a bit down and questioned what is happening.
So it's been tough but I'm also realistic and know I'm at a great club.
I think Ben Hamer's been tremendous and has stepped up to the plate and we've brought in David Button, who is a good keeper. It's been hard for him as well, coming in and not playing and then there is Nick Pope and Dillon Phillips.
Goalkeeping coach Ben Roberts manages the group and keeps everyone together and that keeps everyone on their toes.
On a matchday, there can only be two keepers – one playing and one on the bench. Me or Popey will do the warm-up and watch the game after.
In training, though, it helps so much when you have a lot of keepers. We are always needed with the outfield boys, so it's good when you have three or four keepers for that.
It was good to get some game-time on loan at Colchester United last year but that happiness of playing was tempered because we didn't do as well as I would have liked.
The thing I miss the most is the pressure on a Saturday when you are involved. I do try not to take football home with me but Saturday afternoons when the team is away is the hardest time.
Whether I'm watching Soccer Saturday or out shopping to try to keep busy, I'll always be checking my phone to see how we are getting on.