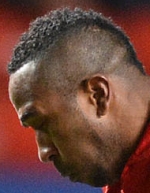 If there was anyone left disputing the incredible competitiveness of the Championship this season, their argument was probably left in tatters on Tuesday night.
The main result of the night, of course, was our brilliant 2-1 win away at Leicester.
It was a score that probably few people expected given our recent form and the fact that Leicester were seeking a seventh win in eight league games.
It was a great result and there were a number of other 'surprises' not least bottom club Peterborough winning 5-1 against Millwall.
Leaders Cardiff City also lost at home for only the second time this season and it shows that anyone can beat anyone on any given day in this division.
After Tuesday's results, we had climbed to 12th in the table, back in the top half but the standings are so congested – with just eight points separating eighth position to 21st – that mid-table obscurity is a phrase that is meaningless this season.
I don't think anyone expected us to do this well. This team won League 1 last season and has come into the Championship and done well.
On a personal level, I've enjoyed the past six months and feel like I'm properly fit now.
It is frustrating not to have started as many games as I would have liked but I knew the position I was in with my fitness after joining the club when the season had already started.
When you do that and try to play catch-up after missing pre-season, you're more likely to get hamstring problems and I've had three or four of them.
But as long as I am fit and the coaches can see what I can do on the pitch in training, then I'll be up for a starting place and the more I keep playing, the better I'll get. That's the sort of person I am.
We've conceded a few late goals recently and could be even higher in the table but that's how it goes sometimes.
We win together and lose together. I know that the fans get disappointed but no one is more disappointed than us and perhaps we showed at Leicester that we have learned some lessons.
On the same night, our opponents on Saturday, Nottingham Forest, won 6-1, so that was a quick reminder that we're in for another tough game at The Valley this weekend.
I made my debut for the club in the reverse fixture at The City Ground and we will be going all out to build on our latest good result.