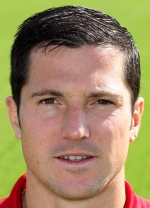 It's usually goals that bring the loudest cheers at matches but perhaps that wasn't the case on Saturday.
There was such a loud roar when I entered the pitch for the last few minutes against Huddersfield that I almost looked around to see what was happening.
It was my first game since fracturing my ankle two months ago and it was a warm welcome back. I'm happy to be back and have a feeling the fans are as well.
I'm not sure how to say it in English but it touched my heart. I'm proud of that.
It was even more special because my parents were at the game. There was a good cheer from the crowd when I went to warm-up as well. It was a long way back but I've worked hard in training and done my best to come back early and I think I've met my target.
That welcome gave me a little bit more power to try to make a difference but we conceded a late goal and ended up with a draw.
With two matches in four days at home, we knew we needed to win games, so it was good to beat Peterborough 2-0 on Tuesday.
My parents were at that game as well, so it was good that they saw me score.
Yes, it was from close to the line but a goal is a goal.
The match was frustrating at times and we have played better this season but when you play against a back five, it's always difficult for strikers to find the space so we maybe needed something special.
Ricardo Fuller's goal was brilliant and that changed the game for us.
Unfortunately, Ricky got injured in the process and that meant longer on the pitch for me.
It's important for me to get game time after my injury and I was happy to start. Chris Powell said that I would play maybe 60, 70, 80 minutes but no more.
I tried to do my best but after Ricky's injury, he decided to keep me on the pitch. He knows that I will work hard until the end.
Every game is a big game in the Championship but I know how important Saturday's match against Millwall is.
It's a big derby and they're doing well at the moment, so we are going to do our best to come back with three points.